Hen Night Taxi Treasure Hunts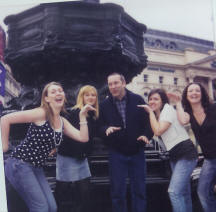 Our Hen Night Treasure Hunts are becoming a popular event for brides to be and their Hens.
The Treasure Hunt can form the start to your day of fun and frivolity.
Our drivers become part of your team and help to make your day a very special event to remember.
We can make the treasure hunt as "risky" as you require
Our Taxi Treasure Hunt allows your guests to travel around in privately hired London style black cabs in comfort and style. Briefed to take you wherever you need to go let our Cabbies be your local guides…It doesn't matter if guests are familiar to London. With our innovative event format, guests will have a great day and see the chosen location from a different side.
Your journey will take you to some of London's most famous landmarks as well as a few more dark and mysterious regions! It will be your mission to crack cryptic clues, decipher codes, take photographs and make sketches. Along the way, you'll hopefully bump into some of our costumed characters that may have extra tasks for you to complete in exchange for information vital to your progress.
The ultimate aim of this format is to have a fun and engaging afternoon or evening around your chosen location. Taxis can be supplied with refreshments and or hampers which will keep teams in high spirits during their adventures!